About Me
Michael Millner, Ph.D.
Licensed Massage Therapist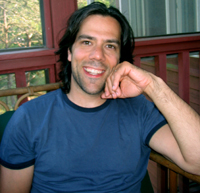 I graduated from the Stillpoint Massage Therapy Certification program in Greenfield, MA in 2006, and I have served on the school's Program Advisory Committee for the past four years. I passed the National Certification Exam for Therapeutic Massage in 2007. I am fully licensed and insured in Massachusetts. I am a member of the Associated Bodyworkers and Massage Professionals.
My training is based in Swedish circulatory massage, complemented by techniques including deep tissue massage, trigger point therapy, hydrotherapy, body mobilizations, myofascial release, and slow passive joint movement. My work is grounded in a solid knowledge of anatomy, myology (the study of muscles), kinesiology (the study of movement), and pathology.
I graduated magna cum laude from Amherst College, where I studied Philosophy. I received my doctorate in Philosophy from the University of California, Berkeley. I studied Ancient Chinese Philosophy, and my primary area of focus was Daoism. I also studied in China at Beijing University.
My practice of massage is informed by my study of Daoism, which begins with an assumption of the body's natural tendency toward healthy functioning. I seek to restore that natural state when it has been disrupted.